From PNNL Lab: "Unique Protein Fold Flags Potentially Unique Function"
Crystal structure of a cyanobacterial protein associated with nitrogen fixation
July 2012
No Writer Credit
Results: The crystal structure of a protein in a bacterium being studied for its renewable energy potential suggests that the protein's biological function may be unique to a process leading to hydrogen gas production, according to researchers from Pacific Northwest National Laboratory and Brookhaven National Laboratory. They determined the structure for a protein that falls into a family of proteins with a "Domain of Unknown Function," annotated DUF269, from Cyanothece 51142, a photosynthetic bacterium with a completely different lifestyle in the day and the night.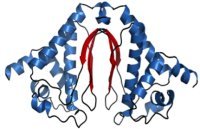 Crystal structure of DUF269 (3NJ2). The β-sheets at the dimer interface, highlighted in red, form the framework for a solvent-accessible cleft.No image credit.
They found that a solvent-accessible cleft with conserved charged residues at the interface of the asymmetric unit of the crystal (see figure) could be an active site or ligand-binding surface for the protein's biological function. The protein fold observed for the Cyanothece appears to be unique to the DUF269 family of proteins.
Why It Matters: By day Cyanothece 51142 uses sunlight to convert carbon dioxide into molecular oxygen and glucose, a process called photosynthesis. At night it uses the glucose to convert atmospheric N2 into biologically available ammonia, a process called nitrogen fixation."
See the full article here.