From NASA Chandra – "M83: A Remarkable Outburst from an Old Black Hole"
Find Chandra here.
"NASA's Chandra X-ray Observatory has discovered an extraordinary outburst by a black hole in the spiral galaxy M83, located about 15 million light years from Earth. Using Chandra, astronomers found a new ultraluminous X-ray source (ULX), objects that give off more X-rays than most "normal" binary systems in which a companion star is in orbit around a neutron star or black hole.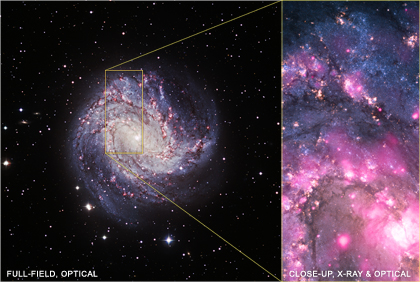 Credit: Left image – Optical: ESO/VLT; Close-up – X-ray: NASA/CXC/Curtin University/R.Soria et al., Optical: NASA/STScI/Middlebury College/F.Winkler et al.
On the left is an optical image of M83 from the Very Large Telescope in Chile, operated by the European Southern Observatory. On the right is a composite image showing X-ray data from Chandra in pink and optical data from the Hubble Space Telescope in blue and yellow. The ULX is located near the bottom of the composite image. (Visit the original article and mouseover for the exact position).
In Chandra observations that spanned several years, the ULX in M83 increased in X-ray brightness by at least 3,000 times. This sudden brightening is one of the largest changes in X-rays ever seen for this type of object, which do not usually show dormant periods."
Here is a short really cool video on M83
See the full article here, with more images and a fuller fact page.