From PNNL Lab: "Annotating Plague with Proteogenomics"
May 2012
No writer credit
Multifaceted strategies help refine annotations of three Yersinia strains
"Results: Strains of bacteria from the genus Yersinia are infectious and virulent: Y. pseudotuberculosis causes intestinal distress, and Y. pestis causes the plague. To better understand and potentially design ways to mitigate Yersinia's effects on human health, researchers from Pacific Northwest National Laboratory, the J. Craig Venter Institute, and the University of Texas Medical Branch took on the task of refining the genome maps of three Yersinia strains. They used the proteome and transcriptome, collections of proteins and transcripts in the bacteria, to discover new information about the genome. Their results appear in PLoS ONE.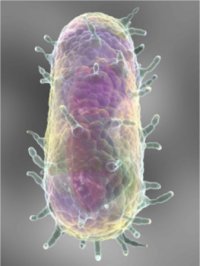 3D representation of Yersina pestis, the cause of bubonic plague
Why it matters: This new multi-faceted approach layers several types of evidence and substantially improves the genome annotation process. Importantly, the team's work established refined genome annotations that provide essential information needed for a better understanding of how the plague functions, may provide new targets for therapeutics, and should speed the characterization of other pathogenic bacteria."
See the full article here.
Pacific Northwest National Laboratory is a Department of Energy Office of Science national laboratory where interdisciplinary teams advance science and technology and deliver solutions to America's most intractable problems in energy, the environment and national security.